Simple Grace features the full-time ministry of the Jim and Kathy Hitch family, from rural Martell, Nebraska.  Blessed with eight children, the Hitch's now travel with five of their children, ministering full-time in venues across the United States.  Simple Grace offers a variety of Christian music, artistically blending acoustic bluegrass, gospel, traditional hymns, folk, and fresh original pieces.  Their concerts shine with strong vocals and personal testimony to affirm their message of the gospel of Jesus Christ.
The Hitch family's performances include guitars, fiddles, banjo, mandolin, piano, harmonicas, cello, and percussion in an inspirational and uplifting program, which ministers across denominational lines.  Sharing their incredible individual gifts from the Lord in a corporate endeavor, this family gives their hearts to the audience in a vulnerable and refreshing style.
The Simple Grace Ministry focuses on God's faithfulness as reflected in His families, and His amazing, unfathomable, simple grace!
James B. Hitch (Jim)
Jim plays guitar, banjo and bass, and sings leads and harmonies for the family group. He has played music and sung most of his life, including such activities as Boy's Octet in high school and the Lincoln Boy's Choir, followed by participation in many secular bands in the '70's. The Lord abruptly changed his life in 1981 when Jim heard the Gospel of Jesus Christ for the very first time, and made a commitment to serve Him at any cost. His conversion eventually led to a position with the praise and worship team of his church, followed by leadership with the choir and special music ministry. He also served as praise and worship leader for over three years. As his children grew, it became evident the Lord was raising up a family music ministry for Jim and Kathy, and their eight children, who minister together as Simple Grace Ministries. As patriarch of Simple Grace, Jim manages the operations of the ministry, including all the bookings and program details.
He wears many hats, some of which are that of Daddy, husband, home school principal, tour bus driver, finance director, road mechanic, trip planner, public relations, counselor, concert MC and taxi driver (only for the family!). He finds his long, lonely night drives across the country lifted and brightened by the Lord's presence and fellowship. Jim believes God has answered his heartfelt desire by allowing him the privilege of serving the Lord together with his family and in a musical capacity. Travel and fellowship with kindred spirits along the way is something he loves, and he recognizes the Lord's hand in placing that desire in his heart and fanning the fire with His Holy Spirit.
Kathy
Kathleen A. Hitch (Kathy)
Kathy plays the acoustic bass guitar for Simple Grace, and sings some lead and support vocals. She has a deep desire to meaningfully touch the hearts of her audiences, and can be found listening to, sharing with and encouraging folks following the concerts. Because she and Jim have endured eight miscarriages during their marriage, the Lord has used her testimony and music to minister to those suffering similar losses. Music is rather new in Kathy's life, and writing songs under the guidance of the Holy Spirit has been an incredibly rewarding experience for her. She dearly loves people, and appreciates the opportunities for developing new friendships that the ministry travels provide. Taking advantage of every chance to incorporate the family travels into the home school curriculum, much teaching is done by Kathy on the road. Kathy's most treasured moments are spending time being a wife, mom and home teacher, and traveling as a family and the unforgettable memories they have shared together. Tending her flower gardens is her creative hobby. Reading and studying are daily treats for her, and she writes a semi-weekly devotion for readers of the Simple Grace e-letter. (http://www.simplegrace.org/newsletter.htm) Juggling home life with ministry travel is a constant challenge and may never be completely resolved! She is the ministry secretary and supervises all publications, product orders and correspondence.
Nick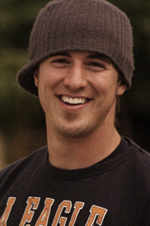 Nicholas B. Hitch (Nick)
Birth date: 2/11/83
Nick officially resigned from the family music ministry in November of 2002, to attend college in El Cajon, California.  He graduated from San Diego Christian College on May 3rd, 2008, with a bachelor's degree in Interdisciplinary Studies.  Nick makes guest appearances with Simple Grace as often as possible, and we are always delighted to feature him.  His position as eldest brother is irreplaceable, and his influence on the younger siblings is positive, inspirational and deeply appreciated. Oh, how deeply we miss and love you, Nick!
On August 1st, 2010, Nick was married to Brittany Joy Carli. They are currently living in Lakeside, California, where Nick is an Engineer at Scripps hospital and Brittany is Nannying.
Lacey
Larissa L. Hitch (Lacey)
Birth date: 3/30/84
Lacey resigned from Simple Grace Ministries in December of 2008 to become the wife of Brandon Wilkie!  She and her husband moved to Mullen, Nebraska, to begin their married life together.  Brandon is a Nebraska State Trooper, and a devoted man of God. We are delighted with their marriage, and excited to see God working and directing their lives. Brandon is a welcome addition to our family, and we honor him as our own son. Lacey teaches private music lessons and Bible studies for young people near their home, and Brandon leads the youth at their church. As a family, we dearly miss Lacey's talent and company as we travel and continue our home life.  Her sparkle and close friendships with each of us have always been a treasure, and we are hard pressed to discover how to fill in the gaps she left behind.  Someone in the family speaks with her every day, and sometimes her phone is backed up with lines of Hitch's waiting for her attention.  We are still aching with missing Lacey!  How we love you, Lace!
On November 6th, 2009, Lacey and Brandon Welcomed Everett Lewis Wilkie into the world. Lacey is currently pregnant with her second child.
Avery
Avery E. Hitch
Birth date:8/7/85
Avery plays the fiddle, guitar and cello on stage, and sings lead and harmony parts.  She enjoys writing songs, and often expresses herself through the music she composes.  Avery is in charge of the financial side of the ministry and family, and works many hours managing the books. God has recently expanded her financial ministry to include managing personal and small business finances for clients, and helping others create and stick to debt reduction plans. Avery's passion is for writing and she has completed two years of correspondence school through the Christian Writer's Guild.  She has published three books and her newest book, A Penny Parcel, was released by Winepress Publishing in February of 2007. A Penny Parcel was nominated for the 2008 Christy Award, a prestigious award given for outstanding Christian fiction.  Visit Avery's website for additional information: www.averyehitch.com. With the publication of her most recent book, Avery has begun booking speaking engagements, and is thrilled at every opportunity to talk about her testimony and books. She speaks at churches, Bible studies, special events and schools. At home, Avery enjoys raising and riding paint horses. She travels many miles in her pickup going to visit Lacey, and she also loves her quiet time and puts effort into staying connected with friends when she's on the road.
On New Years Eve, 2010 Warren Jennings proposed to Avery. They are planning to be married in May, 2011.
Lucas
Lucas J. Hitch
Birth date: 3/19/1988
Lucas continues to be a key component in Simple Grace Ministries. He plays guitar, fiddle, cello, piano, banjo  and helps to arrange music for the band. He is planning to stay in the music field for as long as possible. Lucas has been composing songs prolifically in the past few years. In August of 2009, Lucas released his first full length album entitled "Fade", produced by two time dove award winning artist Jekob Washington. Lucas is planning to move to Castle Rock, Colorado in May to pursue his music on a more focused capacity. He has been performing solo concerts for young adults alongside of Simple Grace this year. For more information, visit his page at www.lucashitch.com.
Lucas continues to enjoy the extreme sports of the west coast; snowboarding, surfing, dirt bike ramping, break dancing and stunts. He enjoys working on cars. He loves to travel and the changing scenery and environments of life on the road. He owns his own web design company (www.oleanderwebdesign.com). Simple Grace Ministries is blessed to have Lucas involved with our ministry, and our family is blessed with his friendship and fellowship both at home and on the road!  It will be a sad day, for sure, when God moves Lucas to different horizons.  Sad, and exciting on his behalf, at the same time.
Blake
Blake D. Hitch
Birth date: 8/27/1989
Blake resigned from Simple Grace Ministries in May of 2008, following his high school graduation.  We miss his talented dobro and drum playing on stage, and his vocals and cheerful presence in the ministry! Blake enjoys any extreme sport including skateboarding, snowboarding, wakeboarding, and surfing.  He is currently working for a Christian roofing company in Lincoln, Nebraska, both on the roof and training in customer relations and repair.  He is the youngest ever to leave our ministry, and we miss him with heartfelt longing!  He has a deep desire to continue in service for the Lord and is developing a ministry with Sterling that they call MIA Ministries to encourage young men to step up in their service to God. We all stay connected with him no matter where we are!  How we miss and love you dearly, Blake!
Sterling
Sterling J. Hitch
Birth date 12/9/1991
Sterling has stepped up admirably to fill the shoes of those who have left our ministry the past couple years!  He plays mandolin and sings tenor vocals for Simple Grace.  His newest contribution to the ministry is composing and singing a powerful song about poverty-stricken children around the world. The Lord has given him a strong passion for missions, and he is leading our ministry's participation in Compassion International's Independent Artists Program, coordinating sponsorship of children around the world with our audiences.  He stepped out of travel with Simple Grace after high school to pursue education, but joins the ministry as the opportunity is available. Sterling completed training in phlebotomy and has recently accepted a job with a hospital in Lincoln, Nebraska.  His goal is to work and respond to mission opportunities as the Lord makes them available. He also enjoys staying in touch with his extreme side, perhaps a bit more than his parents appreciate, by participating in dirt biking, paintball, wakeboarding, break dancing, surfing, as well as other stunts. We appreciate him so much on the road, on the stage and in our home – – wherever he serves- – and cherish his love and pursuit of God.
Havilah
Havilah R. Hitch
Birth date: 12/14/1993
Havilah is a senior this year and has been dedicating lots of her time to her studies but she saves all the extra time she can for music. The mandolin was passed into her hands when Sterling departed from the ministry over the summer and she has especially enjoyed exploring her skills on the guitar this past year. She is excited for the opportunities being at home will bring next year for her to take classes at Southeast Community College in Lincoln. Havilah will be joining her church friends on a missions trip to Mexicali, Mexico in the spring and is looking forward to the work God will do through her for the kids in the churches and orphanages there. Anticipating the many upcoming changes in her life, Havilah is learning to equip herself for the many directions in which God could lead her.
Bristol
Bristol L. Hitch
Birth date: 3/24/1998
Bristol is twelve, now, and not the cute little child we used to know. He is very mature for his age, a young man, and loves music and travel. He is learning fiddle, playing drums, djembe and singing for the ministry. With the older boys gone, Bristol has picked up more responsibility and he wears it well. He enjoys any outdoor activity, including hiking, camping, swimming, football, bicycling, archery and fishing. Mowing and animal care are some of his responsibilities at home, and Bristol is studying in the seventh grade. We enjoy his humor and his eagerness to surprise us with gifts and random acts of kindness on a regular basis. Bristol takes his relationship with the Lord seriously, and is especially fond of author John Eldredge. He won second place in Scripture Memorization at Rodeo Bible Camp in 2007 and 2008, and took the First Place buckle in 2009. Way to go!